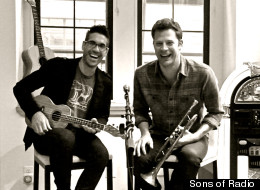 "Gimme That Filet O'Fish" jingle was instrumental in giving Joey Auch, left, and Josh Peck more exposure, but these days the duo focuses more on scoring films and television shows.
Rolling Stone Magazine
Taxi review
GREAT tunes!! You made my day!! This music is "airtight". The lyric are above and beyond the norm with super hip wording and creative imagery that paint the songs rather than tell them. The melodies are potent, rangy and emotive...Excellent work here. It's all there. Stellar vocals, musicianship, production and songwriting. The lyrics are incredibly well written with unique wording and imagery that tell the stories in vivid, creative ways - excellent! Very potent melodies to back up the lyrical prowess - nice work!
WINNER OF THE 8th Annual GREAT AMERICAN SONGWRITING CONTEST
His song received unanimous enthusiastic support from the GASC Judges for its highly effective chorus, bittersweet emotions and memorable melodic structure, and went on to win 1st place in the Pop category.
Joey's song "What We'll Become" was chosen as one of the top 5 best songs for 2007.
The 2006 New York Songwriter's Circle Song Contest
Joey Auch's songwriting and moving live performance at The Bitter End on the final night of the competition leads the judges to award him 3rd place among the top 12 finalists in the competition.
Singer Songwriter Awards
"Star quality vocals...Excellent song...knows what he is going for, he is credible in his storytelling...Reminds me of Paul McCartney at times...great verse lyrics – specific and everything but cliché...I'd Love to hear more from this artist!"
International Songwriting Contest Finalist!
Out of a pool of over 11,000 songwriters from 70 countries Joey Auch has been chosen as a Finalist in The 2004 International Songwriting Contest.
Kweevac.com
"Exquisite vocals! Joey Auch, keyboardist and lead vocalist has a broad range and maturity. (His) songs are fresh and innovative...Reminds me of the band Train fronted by Paul McCartney, which is a cool combination."
Performing Songwriter
"Vocalist, Keyboard Player, and songwriter Joey Auch's able vocals glide across hook laden melodies...combine rock, brit-pop, alt-country, and even a bit of funk into...catchy rootsy sound."
1340Mag.com
"Joey Auch...has a voice that soars to unexpected places on nearly every song."